School Party Packages
First Class Entertainment brings a fresh new way to party at your school's next big dance or prom. Our focus is on the hottest dance music and a fun party attitude. No one is doing school dances and proms as well as First Class Entertainment. We specialize in big events but will work with your advisors & student officers to accommodate any size event from 50 kids to 2000. Check out some of these introductory packages and see if they peak your interest.
School Dances
These two packages are designed to accommodate 50 to 300 students. They all include a professional sound system, lighting, and glow. Your students are welcome to create a playlist for the DJ.
This is a 2-hour event perfect for that junior high or middle school dance. We call it the quick hitter because the DJ can wow the crowd with all of today's hits in this short 2-hour time span. The kid's love it. They hear all of their new and favorite songs, we fulfill requests, and everybody parties. The glow necklaces and basic lighting package included add the little extra punch every party needs.
This is an extension of the Quick Hitter. It is a 3-hour power packed dance. In these 3-hours the students will party an hour harder and an hour longer. Our DJ's will play all of their requests, incorporate the group dances they love, and wow them with the laser and LED lights beating to the music.  The glow necklaces and basic lighting package included add some extra voltage to this 3-hour event.
---
Prom & Formal Event Packages
First Class Entertainment prides itself in providing exceptional entertainment to its party goers. We believe that in order to take your party to the next level, you gotta "Make it Happen and Go BIG." FCE will work with your students and staff to customize and transform your cafeteria, gymnasium, or banquet hall into an atmosphere that has WOW factor. FCE owns the newest in LED lighting, trussing, sound and video.  These packages have no finite price because they are all customized to your liking. However FCE is willing to work within your budget to create a party package that everyone will enjoy. Here are some descriptions and images of what your "Big Show" could look like.
Sound System
FCE has sound systems that are comprised of varying types of speakers that can be floor mounted or raised high on stands. The sound system can be assembled to meet the needs of even the largest ballrooms or gymnasiums.
Lighting
Lighting transforms a party and changes the atmosphere. Whether you seek the elegance and ambiance that uplighting can provide, or just want to feel that night club vibe, FCE can design a lighting package for any event.
Video Projection
Projection is such an AWESOME add-on to your party package. Whether it is projected on a wall, our 22' long screen, or a series of smaller screens mounted to trussing, video packages instantly step up the look and performance of the event. Music videos, monogramed graphics, text, patterns, LIVE video camera feeds, and pre-recorded messages are just some of the things that can be done with video screens. Students LOVE to see themselves and their friends jamming on the big screen. It gives them that little taste of Hollywood.
Trussing Decoration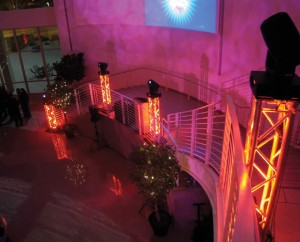 FCE uses industry standard Global Truss trussing equipment to create a functional and aesthetic look to house the lighting and video equipment.
Dress up the event or venue with some decorative trussing towers. These towers come in both square and triangular shapes.  Heights vary from 4′ to 8′. Place an uplight underneath and match your party's color scheme. It's a sure hit every time. These trussing towers and various trussing designs can be seen at nearly every professional concert or show. They create a functional and aesthetic look that immediately takes things up a notch.
DJ Booths
FCE has several different DJ booth designs you can choose to make the DJ area POP. Choose the flashier Motion Façade & Motion Drape or the more elegant Lycra Screen Board.
The Motion Façade is a blanket of LED's that is positioned on the front of the DJ table. It beats to the music and changes direction and design. The Motion Drape: is an 8' x 10' Drape that is mounted to an I-beam truss behind the DJ. It works really well in conjunction with the Motion Façade.
The Lycra Screen Board is an 8' long, 4' high wall that is created in front of the DJ. Light is projected through the screen to create an awesome effect. The light can be still or static and can change in color and pulse.

Photo Booths
First Class Entertainment offers two options for the very popular "Photo Booths."
Open Air Photo Booth
This booth accommodates 4 to 6 people and is basically an enclosed area where guests enter and get pictures taken. Pictures are not composed by a machine. There is a LIVE photographer snapping the photos. Guests can wear various props to make the pictures more interesting. All pictures are printed in a 4" x 6" format. This package is suggested for up to 200 people.
Green Screen Interactive Photo Wall
This is essentially a green photo wall. The green photo wall allows the photographer or guest to select any background and place it behind the picture. Backgrounds can be customized and preselected. This package permits much more flexibility. Instead of 4 to 6 people in the picture, this photo wall could accommodate small and large groups of people.
Regardless of the package you choose, all of your photos will be available for viewing online shortly after your event.